About
Accent on Eyewear opened in Menlo Park in 1988.  For more than a quarter of century our goal has remained the same: to provide eyewear products of the finest caliber and to do so with courtesy, care and understanding.  All of which contribute to the exemplary customer service.  Our returning clients value the fact we have maintained the lofty standards which are our benchmark.  New clients comment on how impressed they are by our wide-ranging professionalism and knowledge – both scientific and cosmetic.  And, more often than not, new clients join the ranks of those we have served for years, those who return again and again and steadfastly recommend our services and products to co-workers, family and friends.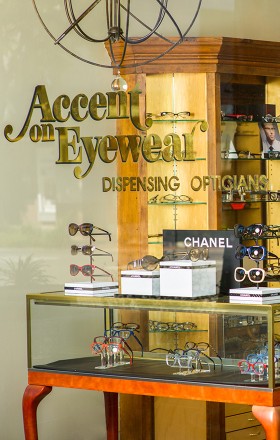 Eva Etter, Founder
Eva is the founder and owner of Accent on Eyewear. With prior training as an engineering draftsperson, she received an A.A. degree in optics from Canada College. Eva is a licensed optician and member of the American Board of Opticianry. She stays abreast of the highly-competitive, constantly changing optical market by regularly attending optic conferences and international expositions in New York, Paris, Milan, and makes frequent visits to various nationally known lens manufacturers.
Team
Like Eva, Vanessa Wong and Charles Martin both have wide-ranging knowledge of lens technology and fabrication. The skills and extensive work experience of the entire team is geared toward advising and assuring that every client's prescribed lenses will be inserted into the 'the perfect frame' chosen from our extensive, diverse and exclusive eyewear collections.   When it comes to customer service – be it advice on the care and handling of eyewear, suggestions, maintenance, dealing with repairs or guarantees – we do our utmost to uphold our original goal: to provide eyewear products of the finest caliber, and to do so with courtesy care and understanding.  The positive feedback we receive from our clients confirms that is precisely what we've been doing all along and that strengthens our resolve to match and surpass our goal.
Charles Martin

Licensed Optician

Charles Martin joined Accent on Eyewear's team in 2001; he has more than thirty years of experience in the optical field and is a graduate of Ophthalmic Dispensing program at Canada College in Redwood City, California.

Vanessa Wong

Licensed Optician

Vanessa Wong has been associated with Accent on Eyewear for more than twenty years. In 2007, she earned a B.A. in Business from Menlo College in Atherton, CA and is a graduate of Waterman's Optical Program in San Mateo, California.
"For the past years, I've never gone anywhere else to have my eye prescriptions filled. I can't imagine trusting anyone but the wonderful team at Accent on Eyewear. Now that I'm retired, I have more time to play golf and I swear my game has exponentially improved since I got fitted for my snazzy- wrap-style polarized sunglasses. Thank you AOE!"
– Jean Y. - Teacher and client since 2004